Scroll to Top
Welcome To The MC Command Center!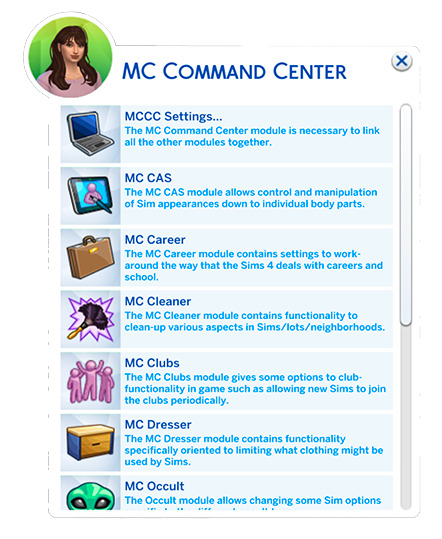 The MC Command Center is a mod that adds greater control to your Sims 4 game experience and NPC story progression options. On this website you can find various resources available for users of the mod.
Down below you can find a quick overview of the different sections of the website.
If more help is needed getting MCCC up-and-running, after you've read through the installation and troubleshooting documentation, we have a Discord server here
This menu will display the supported public releases of MCCC and links to download the mod for those versions.
If you are looking for an older version of MCCC than what is listed there, you should read this.
This menu has an overview page, which lists some overall information about MC Command Center and its modules.
It is a good place to look if you're wanting high-level information about each module.
The Search menu has an option to search either all settings for MCCC or all commands.
The search can be filtered to only be certain modules as well, if you need information about all settings or commands for only a specific module.
The Other Downloads menu contains information about other utilities I have provided both MCCC-specific and not. These will be .Net utilities for Windows as that's what I have! ;)
The Help menu contains instructions for installation, troubleshooting documentation for helping determine why the mod doesn't show-up within the game after installation and a FAQ for frequently asked questions and their answers.
If you are receiving a Last Exception notification when running Sims 4, this is almost always caused by an out-of-date mod or cc (hair, clothing, furniture...could be anything) or a core EA error. The #general_support channel of our Discord server has a lot of people around usually to help with this sort of issue. There is a link to this channel at the bottom of the website as well. When you first join our Discord server, you must first validate before having full access to ensure you are a human and not a bot. You can find details here.