Scroll to Top
Automation Scan
Based on the SCAM mod by Scumbumbo, the purpose of Automation Scanning is to allow the player to choose to disable certain interactions for Sims in their game. MC Tuner is required for this functionality.
This page has a lot of information, so feel free to jump to the parts you need
How To Use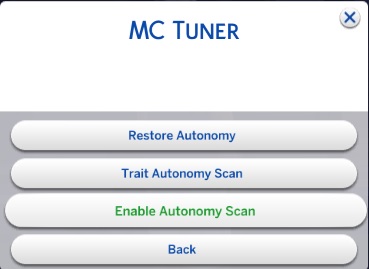 To disable autonomous interactions, the following steps must be followed:
Click on a Sim, go into the MC Command Center > MC Tuner menu and choose "Enable Autonomy Scan". This turns on the menu option for objects to scan for autonomy. It only affects the appearance of the menu. It does not affect whether interactions that have been selected previously are disabled or not. It enables the menus only for the selected Sim. If another Sim is activated or if another household is activated, or if the Sim moves to another lot, the menu will need to be reactivated.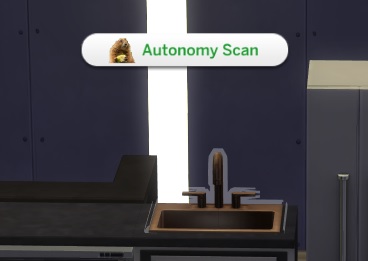 Click on the object in the world that is associated with the autonomous interaction that should be disabled. The menu will contain an option for "Autonomy Scan". Selecting that option will show a dialog with all known interactions for that object that may be performed autonomously.
Note that not all of these will be used by Sims. Some are triggered by other EA processes.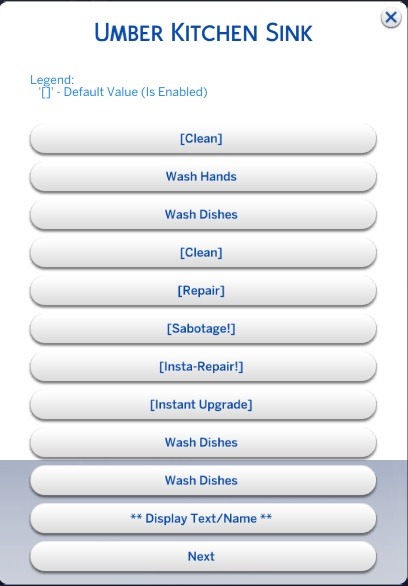 The interaction dialog will show interactions that are currently set to allow autonomy enclosed in "[]" brackets. Interactions that are currently set to not allow autonomy will have no brackets around them. The "** Display Text/Name **" button will toggle the display shown in the interaction buttons from showing the text you'll see in the game when the interaction is running to the name of the interaction class file in the game tuning files. Sometimes it is helpful to switch between these if you have several interactions with the same in-game text (like "Wash Dishes" in the example below).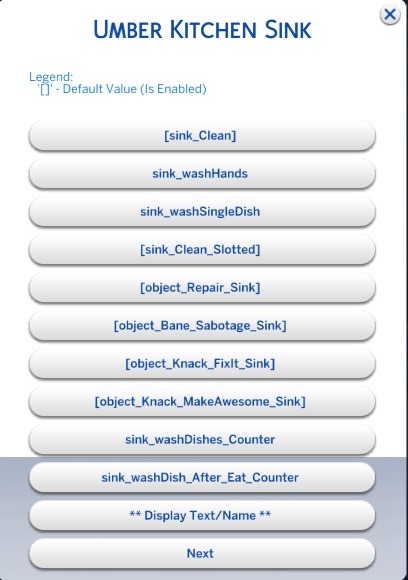 This shows the same options but in "Name" mode instead of text. The differences between the different "Wash Dishes" is easier to see that way.
Some Sims have traits that push autonomous interactions to happen to the Sim. An example of this is toddlers and children have traits that push "Make a Mess" as an autonomous interaction. When MC Tuner is opened for these Sims, an additional menu option will be available in the MC Tuner menu, "Trait Autonomy Scan":
Clicking the buttons to disable autonomy for the interaction will have an immediate affect. The interaction will be saved to the mc_tuner.cfg file so reloading the game in the future will load choices made previously. In the current game, the interaction will also become disabled for autonomy without restarting the game.
Clicking this button will open an interaction menu like the screenshots above for "Autonomy Scan". It behaves the same way with choosing interactions to disable or enable autonomous interactions.
The scan menus can be hidden again on objects and currently running scans by Disabling Automation Scan in the Sims MC Tuner menu:
Currently Running Interaction Scanning and Searches
As of MCCC 5.0.0, the SCAM 4.0 functionality has also been included in Autonomy Scan. This allows scanning Currently Running interactions as well as searching Running and Autonomous interaction. This feature is enabled once the "Enable Autonomy Scan" menu option is enabled in the same manner as the other scan functionality. After enabling autonomy scanning, when the ground is clicked on, a new menu option for "Autonomy Commands" is available:

Clicking this menu option will display a dialog with several different commands: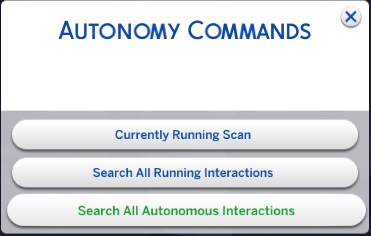 Clicking the Currently Running Scan menu option will open a new dialog showing all of the current running interactions on all Sims on the lot. This allows disabling an interaction immediately when a Sim is observed performing the interaction. The dialog is similar to object scanning and also displays either the Text or Name for interactions currently running:
This is great and all, but say you weren't quick enough to catch some interactions that are running elsewhere. Well, the answer to that is enabling the "Archive Autonomous Actions" setting. This is done within MC Tuner settings on the Computer MCCC menu. In addition to enabling the archiving, the number of interactions may be set to more or less than the default of 50. Archiving is disabled by default since I'm not sure if it would impact performance or not so I prefer to leave it disabled by default unless people want to use it specifically. Once it is enabled, though, the archived interactions show-up in the same dialog as the "Currently Running" interactions.
Clicking the Search All Running Interactions menu option will allow entering one or more words to search through the names (not the display text) of all running interactions. This will also include archived running interactions if that functionality is enabled. Search terms are not case-specific and if multiple are entered, they must all be matched on the interaction name for a result to be returned. Leaving the search text blank will result in all running interactions showing and is the same as just clicking the Currently Running Scan.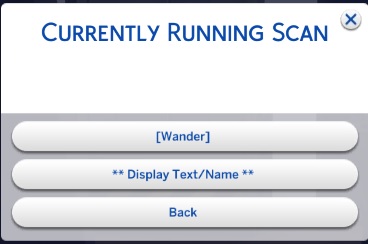 Results found from the search will show-up in the same manner as the standard Currently Running Interaction dialog, but only limited to the search terms.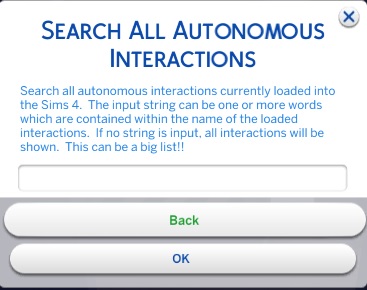 Clicking the Search All Autonomous Interactions menu option will allow entering one or more words to search through the names (not the display text) of all autonomous interactions. This could be a long list. There are thousands of interactions within the Sims 4 and this option will go through all of them searching for the specified word(s) within any that are marked as autonomous. Search terms are not case-specific and if multiple are entered, they must all be matched on the interaction name for a result to be returned. Leaving it blank will show all autonomous interactions currently loaded into the Sims 4 but it will be a very long list and take a very long time to go through and find things, so it is not recommended. As a point of reference, there are more than 400 pages of autonomous interactions at this time.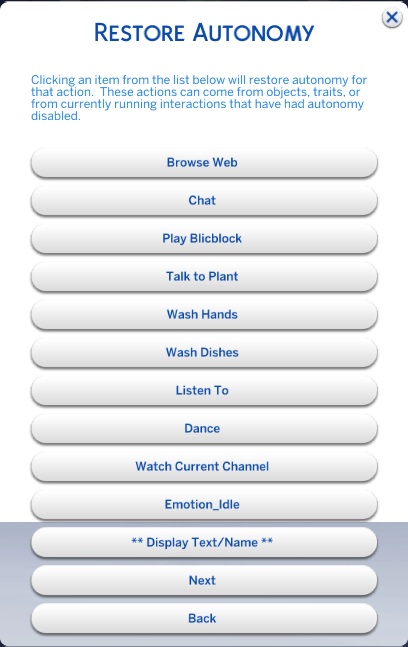 Since there are multiple places that interactions can be disabled in Autonomy Scan, I have added a new "Restore Autonomy" menu on the Sim MC Tuner menu. Clicking this menu option will show all interactions that have been disabled regardless of where they were disabled from in the MCCC UI:
Clicking any interaction within this dialog will re-enable autonomous behavior for that interaction. This can be helpful if something is disabled that breaks something in the game.
Some Notes:
Disabling an interaction disables it for ALL SIMS, not just the selected Sim. The "Autonomy Scan" button being visible or hidden is Sim-specific, but that is the only part of this functionality that only affects the selected Sim.
You should always be careful disabling interactions that you're unsure of the purpose. Some interactions may cause different game behaviors to not work correctly if disabled. It is best to disable only those sure to be linked with annoying actions.
Sims count as objects as well. Some interactions show-up on Sims themselves, such as doing push-ups, sit-ups, stretching.
Some of the parenthood interactions aren't on any visible options. I've not seen a way to get to these interactions in the game itself. An Example is "Make a Mess". I believe this uses an invisible object like maybe a debug object and may be able to be added by adding that object through Buy Debug in some way and then click on it and Scan Autonomy that way. I haven't been able to find it yet.
Some interactions are triggered by other interactions. For example, a Sim may start doing the interaction to "Listen to Spooky Music", but if you click on a stereo, you won't see that option. In this case, the actual interaction is a triggering interaction that chooses a random station to listen to ("stereo_AutonomousPickChannel"). Some trial and error may be necessary to find the right interactions for situations like this. Also, "Get Water" is a "crafting" type interaction and is called "sink_StartCrafting_Autonomously".
Some interactions are triggered by club meetings or traits or situations running on the lot. Sometimes they are also triggered by objects with certain conditions applying to them (like Toddlers may trigger adult Sims to do things when they're in the vacinity of the Toddler). Those do not follow the standard autonomy rules and will not show-up with Scan Autonomy! Sometimes, they cannot be stopped from performing autonomously.
Even though a lot of interactions are listed on objects as "Autonomous", that doesn't always necessarily mean that Sims will do them autonomously. The interactions usually have other conditions and tests on them that prevent them from being run except under EA-determined conditions. So don't send any questions about "xxx is on the list of interactions that should run autonomously so why doesn't it"…because that's why. ;)
The mc_tuning.cfg file is just a text file. It can be edited by hand if you need to remove one or more lines that are no longer desired. The whole line containing the number and the name of the interaction should be deleted. It may be a good practice to back-up the file before hand-edited it in case something bad happens!
As with any mod, Use at your own risk!
Annoying Actions Pre-Autonomy Scan:
At this link, mc_tuner.zip, is zipped file containing a sample mc_tuner.cfg with all of the original annoying action ID's listed below included within it. As an option, the player can download this and then just remove the sections they don't want to block and add any other from the in-game UI that are needed. Note that when MC Tuner loads this file into the game and makes any changes, the remarks/sections will be removed and the clean file with only the interactions in it will remain.
Another option is to use the list below, which lists all of the interactions that were previously blocked by the different annoying actions settings. This will allow copy/pasting the ones for previous settings I had implemented if they don't want to add them in the game UI. As always with copy/pasting into config files, I would recommend backing-up first.
"Alien"
107497,mixer_social_Targeted_Empathize_Friendly_AlwaysOn_Alien
107495,mixer_social_Targeted_AnalyzePersonality_Friendly_AlwaysOn_Alien
108039,mixer_social_MemoryErase_Targeted_Mischief_AlwaysOn_Alien
"Bar"
13060,bar_StartCraftingAutonomously
149397,globeBar_Butler_MakeSelfDrink_Autonomous
149422,globeBar_MakeDrink_Autonomous
151857,globeBar_MakeDrink_Autonomous_Butler
145038,object_BarGlobe_View
"Basketball"
153821,basketball_TakeShots_LongThree
147392,si_Basketball_DreamBig
153380,si_Basketball_DreamBig_DunkFlying
146015,basketball_TakeShots_2Point
151812,si_Basketball_Shots_2Point_Sides
154205,si_Basketball_DreamBig_2Pointer
144034,si_Basketball_FreeThrow
146037,basketball_TakeShots_Any
151889,si_Basketball_Shots_CloseShot_Sides
146013,basketball_TakeShots_Close
151887,si_Basketball_Shots_CloseShot_NoBank
146016,basketball_TakeShots_3Point
151890,si_Basketball_Shots_ThreePointer_NoBank
151891,si_Basketball_Shots_ThreePointer_Center
151892,si_Basketball_Shots_ThreePointer_Sides
144911,si_Basketball_PracticeDribbling
"Bookshelf"
77412,autonomous_Bookshelf_Browse_Picker
77414,autonomous_Bookshelf_Browse_Picker_Child
77329,autonomous_bookshelf_read_picker
39360,bookshelf_Read_Picker
39425,bookshelf_Read_Picker_Child
"Bubble Blower"
134002,BubbleBlower_Use_SI
"Computer"
13187,computer_Browse_Web
13192,computer_Chat
13230,computer_PlayGame_Blicblock
24334,computer_BlogAboutFeelings
26368,computer_Browse_ResearchWorkoutTips
28604,computer_Browse_ResearchCookingTechniques
31032,computer_Browse_Simipedia
31171,computer_SocialNetwork_Update
31421,computer_PlayGame_Arithmetic
31426,computer_PlayGame_Typing
31740,computer_PlayGame_SimsForeverRenamed
31741,computer_PlayGame_IncredibleSports
31742,computer_PlayGame_MariaSisters
31743,computer_PlayGame_REFUGE
31745,computer_PlayGame_RoadRival
31746,computer_PlayGame_Hillock
32353,computer_Picker_Chat_Autonomous
34503,computer_Browse_ResearchPiano
34504,computer_Browse_ResearchGuitar
34505,computer_Browse_ResearchViolin
35935,computer_Browse_Research_GardeningTips
40074,computer_Browse_Art
34199,computer_InvestigateSim
33877,computer_PracticeWritingSkill,
30017,computer_WriteJokes
31232,computer_Programming_Practice
29760,computer_Postcards_CheckNewPenpal
160647,computer_Browse_ParentingSkill_BrowseForums
160648,computer_Browse_ParentingSkill_ResearchParenting
"Exercise"
33776,sim_doPushUpsAutonomously
40405,sim_doPushUps_NPCSituation
33781,sim_doSitUpsAutonomously
96787,sim_doStretching
117407,si_Yoga_Routine_EnergyCentering
117408,si_Yoga_Routine_BrainBoosting
117409,si_Yoga_Routine_MindConcentrating
"Get Drink"
26319,fridge_GrabDrinkAutonomously
133052,sink_StartCrafting_Autonomously
222271,autonomous_ObjectPicker_Sink_StartCrafting
"Hug"
27921,mixer_social_BroHug_targeted_Friendly_alwaysOn
26914,mixer_social_Hug_targeted_Friendly_MiddleScore
39825,sim_Hug_QuickSocial
"Mold Clay"
"Phone"
39847,sim_ShowFunnyVideo_QuickSocial
127082,phone_Text_Autonomous
125675,mixer_social_GoingOutSocials_SharePhoto
97731,mixer_social_TakePictureTogether_targeted_Friendly_alwaysOn
99408,phone_PlayGames_AutonomousOnly
97904,phone_PlayGames_Child
99414,phone_BrowseWebsites_AutonomousOnly
30769,phone_PrankCall
"Play Dolls"
13337,DollHouse_Play
165004,autonomousSimPicker_dollhouse_PlayWith
"Practice Singing"
139249,singingSkill_TieredMenu_Microphone_Practice
141825,singingSkill_TieredMenu_Self_Practice
139900,self_Social_Serenade
"Stereo"
14311,stereo_AutonomousPickChannel
14315,stereo_Dance
"Swimming Pool"
105715,pool-swim_Autonomous
128687,generic_JumpStand
129824,si_JumpStand_AutonomousJumpChooser
"TV"
28658,tv_WatchCooking_CulinaryTraining
27522,tv_WatchCooking_Foodie
9110,tv_WatchKids
14491,tv_PickChannelAutonomously
132401,tv_PickMovieAutonomously
165037,autonomousSimPicker_watchTvWith
129209,tv_MovieWatchCurrentChannelAutonomously
126983,TV_WatchRandomChannel
"Urn"
14498,urnstone_MournAggregate
"Vampire"
152745,mixer_social_ShowOffPowers_Targeted_Friendly_AlwaysOn
"View Fish"
"Wash Hands"
"Workbench"
144764,woodworkingTable_Craft_Autonomously_ArtsCenterVenue
"Dumpsters"
233082,dumpster_DiveForDeals
233084,dumpster_DiveForMeals
234500,trashUpdate_Dumpster_SortCompostables
234501,trashUpdate_Dumpster_SortRecyclables
235452,dumpster_Dive_CommunityNPC
237004,dumpster_DiveForDeals_Freegan
237820,dumpster_Nap
239647,trashUpdate_Dumpster_ClearFlies
239654,trashUpdate_Dumpster_ClearRoaches
241755,trashUpdate_Dumpster_SortCompostables_Left
241756,trashUpdate_Dumpster_SortRecyclables_Left
Final thoughts:
if anyone finds interactions that should definitely NEVER be allowed to be disabled, let me know and I'll try to add filters to prevent it from showing-up in the dialogs so it won't break anyone's game.